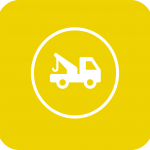 Help on the road, but make it affordable
If you have a car, eventually you're going to need a rescue. That's us. Road Rescue is roadside help (without the highway robbery).

Having a breakdown? We'll tow you to the nearest service station. Flat tire? We'll change it. Out of gas? We'll bring you up to 3 gallons. Locked out or need a new set of keys? We do that, too. Dead battery? We'll jump it. (Up to $100, limit 3 claims per year).
Emergency trip interruption

Broke down on your way to your vacation? We're on our way—with $1,000. If you're more than 50 miles from home, we'll reimburse you for hotels, meals, rental cars, and other costs racked up because of a break down.
If you've ever lost your car keys, you know how expensive they are to replace. We can help with that, too. With Road Rescue, we'll give you $100 to put towards the cost of replacing your lost or stolen keys. How's that sound?